In June 2015 I had the opportunity to visit the Yangon office of my current employer Save the Children. Save have a huge office in Myanmar (300 or so staff), and a huge operation across the country working with some of the most disadvantaged children in the world. IT and connectivity are a serious challenge across the country and so myself and a colleague visited for a week to see what we could do to help.
I'm not normally a city tourist type of person, always preferring to get out and about in the landscape of places that I visit. On this trip this wasn't possible due to the increased visa requirements of going outside of Yangon, so we stayed in the city for the entire trip. There was much work to do, but I did get an opportunity on the last afternoon for a couple of hours out and about before I left for my connecting flight back to Bangkok.
All my local colleagues at Save had quite simply said that there was one thing I should do, and that was to visit the Shwedagon Pagoda which is one of the holiest sites in Buddism.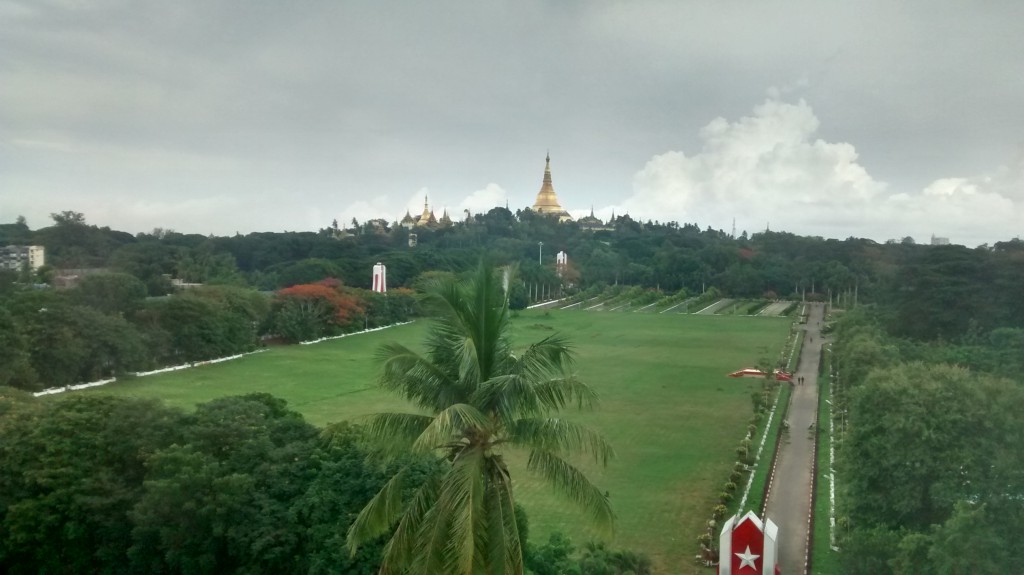 Luckily for me it happened to just around the corner from both the Save offices and my hotel. This is the view from my hotel restaurant! The first challenge when I went was the heat.
Following the local advice again I purchased an umbrella to use as both a parasol and to protect from the rain, as it was just entering the rainy season and there had been some medium sized storms during the week.
I strolled over to the Pagoda, paid my entry fee, removed by shoes as required and entered. I guess I planned to stay for an hour at most, as I simply am not a person who tends to love looking around cities, buildings churches etc. I just tend to get bored without some nature to enjoy, it's not that I don't admire or respect the sights, they're just not my personal favourites, but this turned out to be very different. 3 hours later I was there, watching the sun go down and seeing the pagoda start to light up in the early evening. It was an utterly entrancing experience. I spent so long just sitting and breathing in the quite ambience of the temple (whilst trying not to get too hot, or to burn my feet on the red hot floor). Fortunately there is free water supplied at numerous points throughout the temple grounds, and there are even public toilets just outside the temple which means that one can stay and be refreshed and enjoy an extremely long visit should you so wish.
If you do happen to be making your way to Yangon, don't hesitate to go to the pagoda. You'll be richly rewarded by the experience, even if you're not normally wowed by city sightseeing like me.